How To Make eCommerce Website Like Amazon, eBay, Etsy, Flipkart, Best Buy, Home Depot For Free: Nowadays eCommerce stores are one of the best ways to earn an income online. The best part about starting an e-commerce website like Amazon is that you don't have to own the products to sell on it. All you have to do is ask businesses to upload their products on your website and you earn a part of their profit. In the beginning, you can keep a lower market share but as the businesses increase, you can raise it.
What's Amazon?
Amazon is an American transnational technology company that specializes in e-commerce, cloud computing, and artificial intelligence. Today, they're considered the world's largest online retailer. Amazon has more than 300 million monthly active users, and more than 2 million sellers work via the Amazon website all over the world. In 2018, Amazon's net revenue reached $230 billion.
These numbers are astonishing. They show the popularity and success of the company. But Amazon didn't achieve all of this in a day. Let's remember how it all started.
Amazon has an extensive history of ups and downs, but it has managed to not only survive but prosper. There must be some tricks they used to succeed. Let's find out what they are.
CHALLENGES AND OPPORTUNITIES FOR MARKETPLACES LIKE AMAZON
1. PRICING
The 'everything' stores sell goods that can be bought everywhere, so the lower price creates one of the competitive advantages for marketplaces like Amazon. The issue here is how to keep prices attractive for users but still stay profitable?
The prices on Amazon depend on many factors, like competitors' prices, seasonality, supply, and demand. Taking into account these and many other factors, the analytical systems of the website may change prices several times per day. And the goods on Amazon don't always cost less than at other marketplaces. Amazon keeps secret its algorithms of dynamic pricing.
2. DRIVING THE AUDIENCE
At the time when Amazon started, they already had several powerful competitors, like Barnes and Noble and Books.com. It was like crazy to try surpassing them. But nothing was impossible for Jeff Bezos. His young company had a simple website with few features, no inventory, little budget, and a small team. Jeff did many routine tasks, like packaging the orders, by himself.
The main goal was to by all means drive more and more customers. That's why Amazon gave huge discounts on books and delivery and almost did not get revenue for the first few years. The Everything Store by Brad Stone describes many extraordinary solutions used by Amazon for trying their best to acquire and retain customers on the platform in its early days:
3. DIVERSITY OF TARGETS
One of the biggest difficulties of horizontal marketplaces that sell everything is how to create targeted value propositions and marketing campaigns for all the variety of customer groups.
To solve this issue, identify the largest group and focus your attention primarily on them. This group, however, can be subdivided into smaller segments with more precise needs.
4. TREATING BUYERS AND SELLERS EQUALLY
With their 'customer-centric' model, one of Amazon's issues is that they praise buyers more than sellers.
Recently Amazon was under investigation by Germany's antitrust authority, which resulted in forcing the company to lessen the restrictions for European merchants. The changes included 30-day notification of termination of the partnership with business, simplifying the explanation of Amazon's terms of services, and fairer presentation of customer reviews.
How to create an eCommerce site like Amazon, eBay, Etsy, Flipkart, Best Buy, Home Depot
To create your website like Amazon, eBay, Etsy, Flipkart, Best Buy, Home Depot you can follow these steps:
Purchase a domain
Get web hosting
Install WordPress
Install a WordPress theme
Configure the theme
Launch & Promotion
The only money you have to spend on making the website is the cost of the domain and web hosting.
What you need
Creating a website doesn't require a ton of software or products. You just need a few things.
WordPress
WordPress is the world's most popular CMS (content management system). You'll use the WordPress interface to do everything from publishing articles, managing your products, and customizing your site.
The crazy part is that it only takes a few minutes to get your site online once you've chosen a domain name. It seems like a big deal, but it's really pretty fast and easy.
After you get your site online, you can move onto converting it to a full-fledged eCommerce store like Amazon.
AllStore
The next thing you need is an eCommerce WordPress theme. I recommend the AllStore theme above all others.
The theme you choose doesn't just change how your site looks – it can also add lots of functionality. AllStore gets my recommendation because it's highly customizable, attractive, and well-designed.
If you look at other eCommerce themes, you'll quickly get frustrated with the same bad design decisions. They have huge images and sliders and animations – all of it distracting the visitor from simply browsing products and purchasing them.
WooCommerce
For the actual eCommerce functionality – the cart, checkout, payment processing – you'll use the free WooCommerce WordPress plugin.


WooCommerce is by far the most popular and reliable eCommerce solution for WordPress, and in fact, it's used on more eCommerce sites than any other solution. It will allow you to add products in your WP dashboard, set prices, review payments and customers, and everything else you need for your shop.
AllStore also integrates seamlessly with WooCommerce.
Why use WordPress?
As I mentioned earlier, WordPress is the most popular CMS. It's not a perfect product, but it has one major edge over competitors.
Alternatives like Squarespace are easier to pick up and learn, but they're way less flexible. Squarespace's eCommerce capabilities can't compare to WooCommerce and the many WooCommerce extensions built by other developers. And that brings us to why WordPress is so great.
There are thousands of "plugins" for adding new functionality to your site. There is a plugin for any feature you can possibly imagine, and oftentimes, there are many plugins to choose from.
Perhaps most important is the amount of information online. Whenever you have a question, you can Google it and find tons of resolved support threads and blog posts with answers.
Setup WooCommerce
The next step is to get familiar with the eCommerce plugin, WooCommerce. There are lots of detailed tutorials on using WooCommerce, and this one by Torque is especially helpful.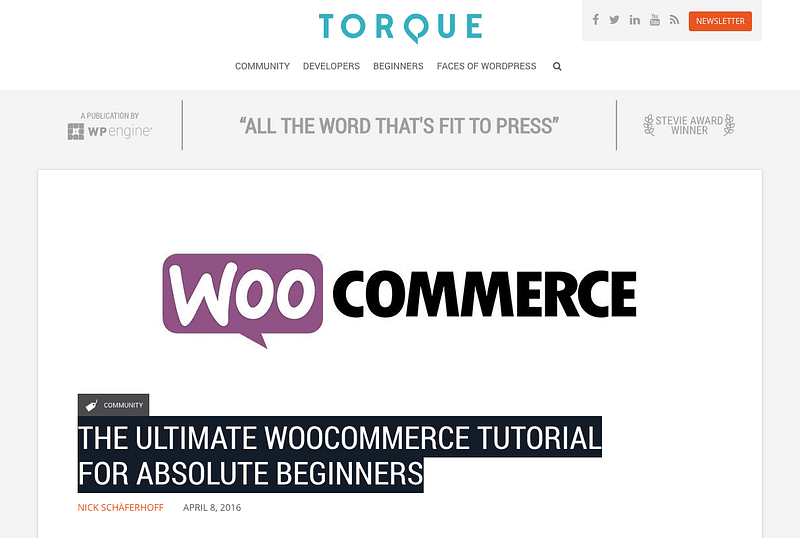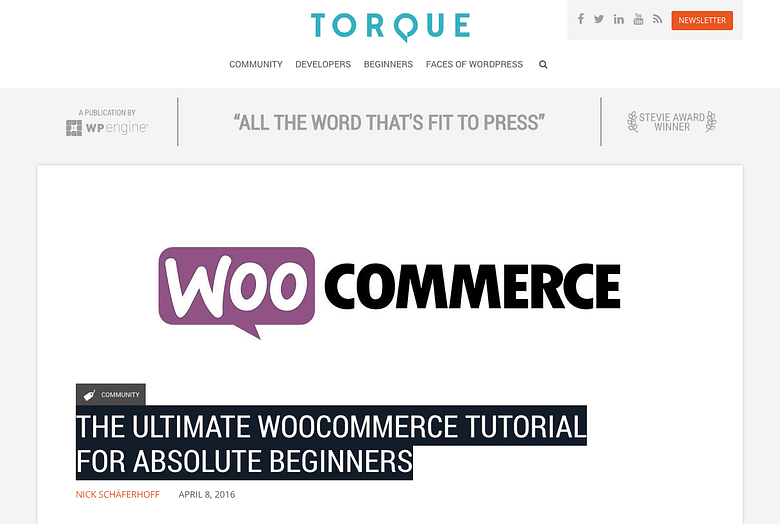 Customize your site
With your new understanding of WooCommerce and your site ready to go, the only step left is to begin adding products and customizing your site.
In your admin dashboard menu, you'll find all the tools you need for customization provided by AllStore. The page builder will help you create new templates and the "Customizer" can be used for small design changes like fonts and colors, and you can watch those updates take place live.
Good Alternatives to AllStore
If you'd like to see some alternatives with great design and features, there are a few other themes I'd recommend.
Shopkeeper
The Shopkeeper theme is amazingly flexible and packed with cool features. It also has tons of 5-star reviews from its customers to vouch for its quality.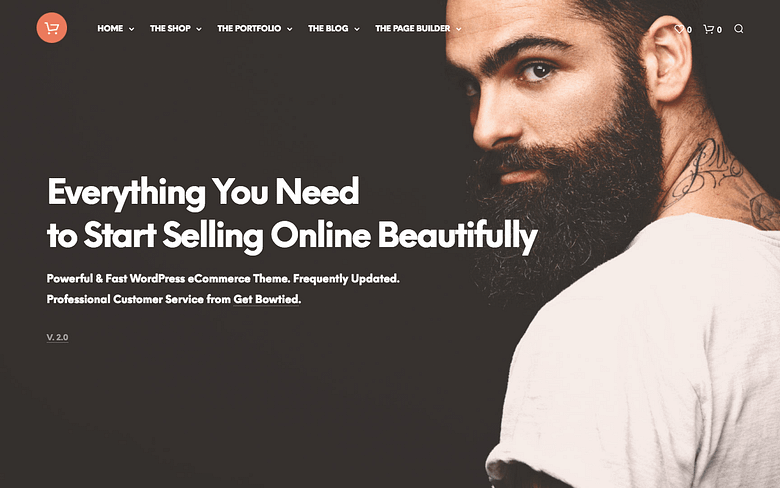 Flatsome
Flatsome has a simple design not too different from AllStore, but it is a more popular theme on Themeforest. Like Shopkeeper, this WP theme has lots of great reviews from customers (over 3,000!).
Launching & Promotion of eCommerce Website like Amazon
Before launching the website, you need to find sellers who are ready to upload their products on your website. Your second target group is buyers.
The easiest you to attract both of these groups is by online advertising. You can start collecting sellers by showing them a prototype of your website and what they should expect from it.
Create hype among probable buyers by promoting your website a few days before the launch. You can have a special discount and membership benefits for the first 1,000 or something followers.
Find your own ways to generate curiosity among the people. If your budget permits, you can click photos for your vendors. You can charge them a minimal cost.
Here are some ways you can increase your reach:
SEO optimization
Optimizing your website is the cheapest way to generate traffic on your website.
Google Adwords
Using Google Adwords, put ads of our websites on blogs and web applications. You will have to pay fees, but it is quite affordable.
Facebook Ads
The same thing goes for Facebook Ads. You reach a large population in a limited duration. Make you customize the settings and search results correctly or else all you invested money will go to waste.
Time and Cost of Building an Ecommerce Website
Depending on big your ecommerce website is, it will take anywhere between two to four months to launch it, which includes testing.
Promotion is an ongoing process, so you can choose to begin with it when you are 50 percent done with the website.