A little more than 25 years ago, India embarked on a journey and economic liberalization. It powered a growth wave unlike any in the country's history. This culminated in the nation becoming a $3 trillion economy in 2019. And a quick look at the underlying fundamentals reveals that more is yet to come.
Taking into consideration the report published by The Economic Times India will be one of the largest consumer markets by the mid-21st century. The consumption base is one part of the equation. The other being a robust business ecosystem capable of meeting its demands. Here too, India has made rapid progress, jumping from 142nd in 2014 to 63rd in 2019 in the World Bank's ease of doing business report. Clearly then, India has not just accelerated its growth. But done so while pursuing the goals of achieving macro-stability, inclusive and sustainable growth.
Growth in focus
While arguments abound around revenue v profitability. It is interesting to note that Amazon , has never been particularly profitable as it focuses relentlessly on long-term growth. While profitability has been the most important currency historically, in the 21st century, explosive growth has been proven possible even with wafer thin profit margins. Given the emergence of Venture Capital and other means of financial inputs.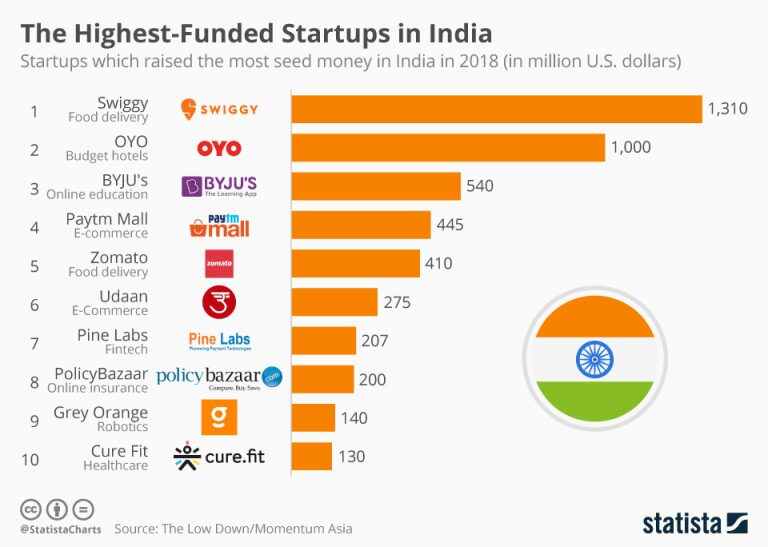 The growth Champions
The numbers bear out India's changing face; 40% of the growth champions come from Bengaluru, Mumbai, Hyderabad and Delhi, while Tech (21%), Industrial Goods (13%), Food, Beverage & Restaurants (8%), Construction & Property (7%), and Financial Services Companies (7%) make up a majority of the mix. Thomas Clark, Partner at Statista, raised a few pertinent points. "If you look closer at this inaugural ranking, you will see that it reflects the ongoing transformation of the Indian economy extremely well. 28% of the winners engage in traditional sectors such as industrial goods, construction and food. Yet, they were already surpassed by tech and financial services firms, which together account for 29%."